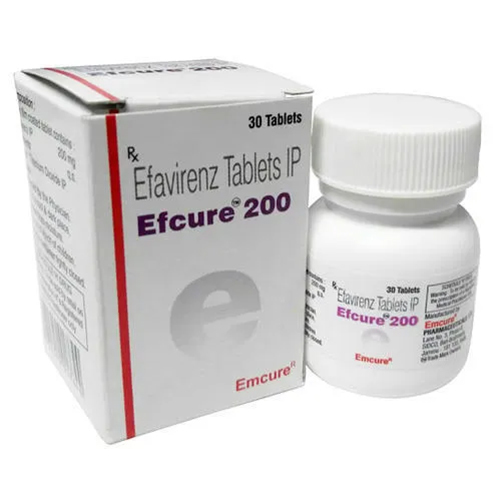 Efcure 200mg
Price And Quantity
Product Specifications
As per Doctor Recommended

Dry place
Product Description
Efcure 200mg
Tablet belongs to a group of medicines called antiretrovirals. It is used to treat HIV (human immunodeficiency virus), the virus that can cause AIDS (acquired immunodeficiency syndrome). It helps to control HIV infection so your immune system can work better.
Efcure 200mg
Tablet reduces the chances of getting HIV-related complications and improves your lifespan. It can be taken empty stomach or with food and is prescribed in combination with other HIV medicines. Taking all these medicines regularly at the right times greatly increases their effectiveness and reduces the chances of HIV becoming resistant to them. It is important to keep taking them regularly until your doctor tells you it is safe to stop.
Common side effects of this medicine include headache, nausea, vomiting, stomach pain, fatigue, diarrhea, and rash. These are usually not serious but tell your doctor if they bother you or do not go away. Consult your doctor urgently if you experience a skin reaction or liver damage.
Before taking it, tell your doctor if you have any skin, liver or kidney problems. While using it, you may need regular blood tests to check your blood cell counts and liver function. Avoid drinking alcohol as it may increase your risk of liver damage. Pregnant or breastfeeding mothers should consult their doctor before using this medicine. Do not have unprotected sex or share personal items like razors or toothbrushes, if you are HIV positive. Talk to your doctor about safe ways like condoms to prevent HIV transmission during sex.USES OF EFCURE TABLET